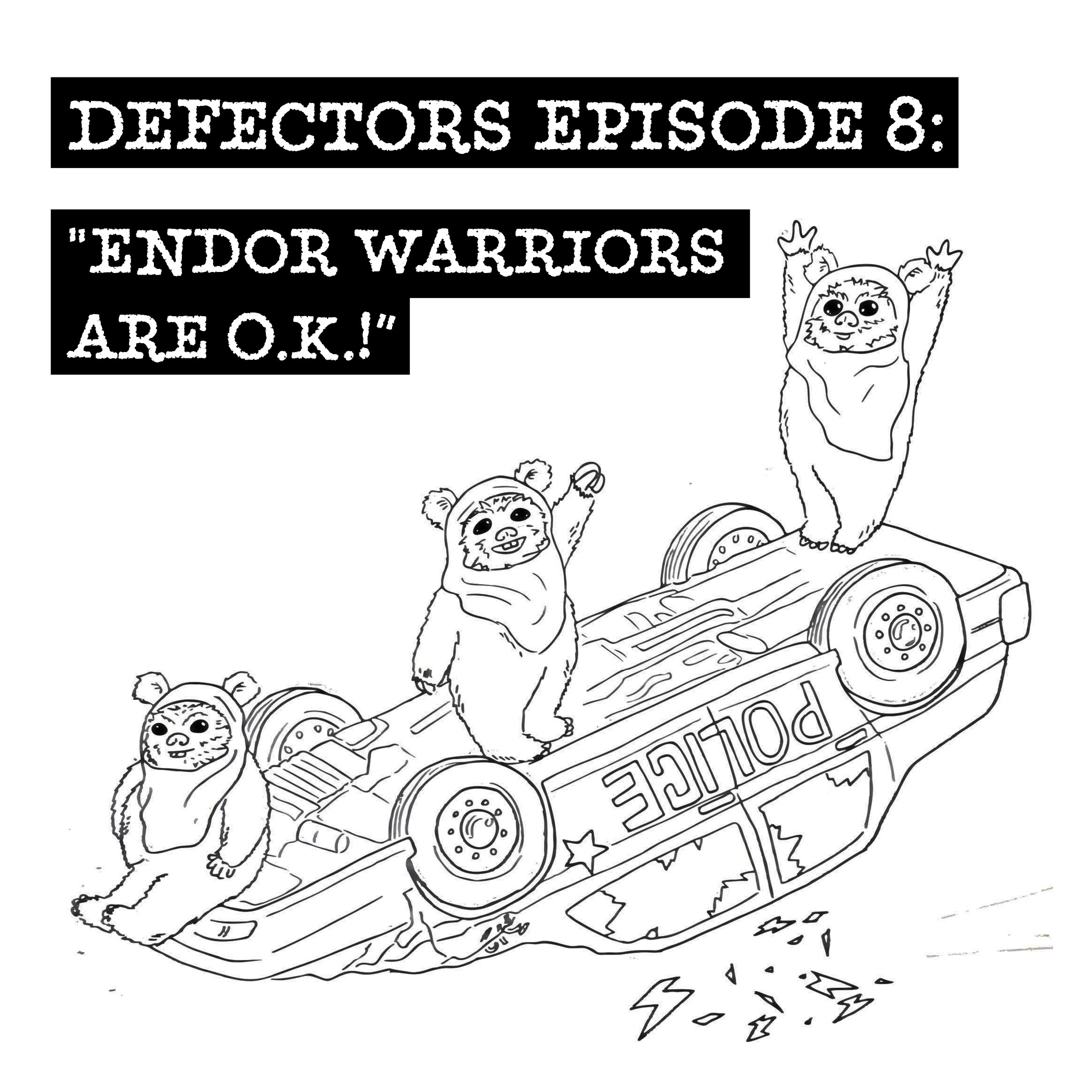 Defectors Episode 8: Endor Warriors are O.K.!
We ask a lot of questions about Ewoks in ROTJ! Were they meant to spread an anti-tech message or just to sell toys? Is their inspiration from the Viet Cong and the indigenous Miwok tribes an example of cultural appropriation? Do they eat humans, and do we care? We also take a look at Earth Warriors are O.K.! (EWOK!), an eco-prisoner support group active in the Twin Cities in the late '90s and early 2000s, and shout out the Earth First! Journal, a radical environmental magazine written for and by grassroots activists. But first we catch up and discuss The Clone Wars, Resistance, Funko Pops, our guest appearance on the leftist podcast Coffee with Comrades, and, well, the weather.
Website: defectorspodcast.com
Podbean: defectors.podbean.com
Twitter: @DefectorsPod
Instagram: DefectorsPodcast
Email: defectorspodcast@protonmail.com
SHOUTOUT: Earth First! Journal
Website: earthfirstjournal.org
Twitter: @efjournal
Earth Warriors are O.K.! (EWOK!)
Zine: https://www.sproutdistro.com/catalog/zines/prisons/ewok-zine/
Website: https://midwestgreenscare.wordpress.com/
Check out Coffee with Comrades Episode 34: "Destroy the Death Star, Featuring Defectors Podcast"!
Website: coffeewithcomrades.com
Twitter: @coffeewithcomrades
Ira made the art for this episode! Thanks Ira! Follow them to see more of their art:
Instagram: @tailofthecat
Twitter: @plantneighbor
Here's our main reference for the Ewoks-eating-Stormtroopers dicussion, "Did Ewoks Eat The Stormtroopers" from Star Wars Explained: https://youtu.be/yH_AU1eFzrs
Thank you Eamon for making our logo!
Check out the Radical People Podcast—it's full of awesome interviews with on-the-ground activists:
soundcloud.com/ranger-danger-379084944
Twitter: @Radical_Podcast
Intro music: "May the Chords Be with You" by Computer Music All-Stars
freemusicarchive.org/music/Computer_Music_All-Stars/May_the_Chords_Be_with_You/May_the_Chords_Be_with_You
Licensed under Creative Commons by 4.0: creativecommons.org/licenses/by/4.0/legalcode
Beeps and boops from "Cruising with R2D2" by Flying Creature
http://freemusicarchive.org/music/Flying_Species/The_Second_Flight/10_-_Bonus_Track_-_Cruising_with_R2D2
Licensed under Creative Commons Attribution-NonCommercial-NoDerivitives 4.0 International: https://creativecommons.org/licenses/by-nc-nd/4.0/legalcode
Like the show? Rate us on iTunes and leave a review!